This is

Kenneth Ho Hong Hui

aka

Ta Ker Ken

. He is from Kuching and now located in KL to pursue his studies as well as to fulfil his dream of becoming a Superstar. He sings, he writes. Yeap, he write songs.



Hopefully, my Ta Ker Ken could achieve his dream! *crosses fingers*

Jia You Jia You~!
(psst.. I purposely upload this picture!

hahaha

.. So, when he gets famous, we'll have a good laugh looking at this cute picture of him.*evil grin*)

He used to
meriam
me last time. How he
meriam
? Here's one of the
meriam
and I will forever remember.. Thanks to him, I've become smarter then before. I've learnt to counter attack when

kena meriam

.
Long long time ago, while we were chatting on iRc (those were the days) he told me that the Sarawak Museum's Meriam were stolen! I was like true or not? So heavy how to carry away. He said if I don't believe him, I should look into the newspaper.
Deh
... If you say it's in the newspaper I sure will believe 'coz I don't read newspaper
mar
.. I even asked my parents and friends. I asked everyone who were online that time! In the end, it was just a
meriam
.. KABOOM!
Ok.. Enough story story. Let's get into the real business. Ta Ker Ken and his girl participated in the 3rd Mr & Mrs Campus '07 contest organized by Listerine and Spotlite Magazine
kua
.. Anyway, vote for them.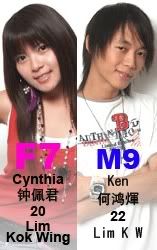 To VOTE, please type:
MC M9
And send to 36611

Also Vote F7!
Type
MC F7

And send to 36611
[Taken from
http://www.spotlite.com.my/
]


Voting period till 26 May 2007





VOTE FOR THEM!





ALL THE BEST & GOOD LUCK!!
Ta Ker Ken, Ok

mar

?
I'm taking my notes chewing time off for doing this in favor for you. KAN TUNG ANOT?!
You scratch my back, I scratch yours.
wuekkekekeke
..