Message in Chocolate
Sweeten your valentine's morning by topping his coffee with love. Spoon a bit of foamed milk on top, and use a squeeze bottle to draw a heart with room-temperature chocolate syrup—store-bought or homemade—just before serving. Make sure foam is dense and syrup is thin. Serve immediately; the image will last only a minute or two. This trick works on cappuccino and latte, or hot chocolate topped with whipped cream.



Valentine's Day Cookie Pops
By Amanda Formaro
Ingredients:
20 vanilla wafer cookies
1/2 cup peanut butter
1 6-ounce bag white chocolate chips
1 6-ounce bag semi sweet chocolate chips
colored candy sprinkles, red & white
pink and red gummy or sour patch bears
cake decorating writer gel in green, pink, red, black, and white
1 tube each of white, red, and pink cake decorator frosting with flower tip
red food coloring
ice cream or lollipop sticks
wax paper or paper plates
Instructions:
Spread peanut butter onto the flat side of the cookies. Place an ice cream stick into the peanut butter on half the cookies. Top with another cookie so the stick is sandwiched between the two cookies.
Melt chocolate chips
Before melting, separate the white chips into two bowls. After melting, add a few drops of red food coloring to one of the bowls of white chips to make pink chocolate. Dip cookie pops in the melted chips, covering completely. Roll pops in red and white sprinkles and lay or stand on waxed paper or paper plates. Place in refrigerator to chill.
Fun Variations
Drizzles -- Alternating between white chocolate, pink chocolate and semi sweet, drizzle melted chocolate over the cookie to create a cool look!
Writing -- Write fun Valentine shorts on plain pops such as "Love" or "Hug". Add a gummy bear.
Hearts -- Use the decorator gel to draw on hearts and hearts with arrows.
Flowers -- Using the flower tip, pipe on pink flowers with cake decorator icing. Use green gel to add stems and leaves to the bouquet.
Note:
Another variation is to use vanilla or chocolate frosting instead of peanut butter for the filling. These can also be made without sticks. Use one stick to be able to dip the cookies in chocolate and roll in sprinkles, then remove the stick and put on wax paper or paper plates, then chill.
Valentine's Day Cupcakes
By Amanda Formaro
Ingredients:
your favorite box cake, any flavor
red food coloring
white buttercream icing
red, pink and green decorator gel
red, pink and white decorator frosting
flower decorating tip
red & white sprinkles cupcake liners
Instructions:
Prepare cake mix as directed. If desired, you can make pink cupcakes with either a flavored mix, such as cherry, or add a few drops of red food coloring to a prepared white cake mix. Put cupcake liners into muffin tins and fill liners as directed on box cake mix. Bake as directed and allow to cool thoroughly before frosting and decorating.
When finished, separate into two dishes. Add a few drops of red food coloring to one bowl and stir until thoroughly mixed. You should have one bowl of pink icing and one bowl of white.
Decorate
There's really not much to decorating cupcakes, especially in the eyes of your admiring children. Just a dollop of frosting is artistic enough for them! Here are a few simple tips that will help you decorate your holiday cupcakes.
Piping - Using the flower tip on the decorator frosting, pipe a border around the frosted cupcake. Use contrasting colors -- red piping on white frosting, white piping on pink, etc.
Sprinkles - The beauty of sprinkles is that there is no perfection involved. SImply drop them and let them ly where they fall. Use contrasting colors, and mix colors when pleasing.
Shapes - Use the decorator gels to "draw" on heart shapes or to add flowers and leaves to a cupcake. You can also use these to dot around the outside edge of one of the treats. These are also ideal for writing words, such as "love", "be mine" and "kiss".
Frosting only - Use the two different colored frostings to decorate one cupcake. Spread half of a cupcake with white, and carefully spread the other half with pink. You can also spread a full coat of white on and dot the center with pink. Get creative and try swirls or other shapes by using only frosting.
Be sure to store your cupcakes in a tightly covered container so they do not harden or go stale. That is, if they last that long!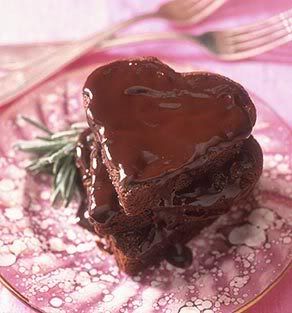 Serves 4
You will need twelve 3 3/4-inch heart molds or tart pans with removable bottoms to make individual chocolate cakes.


Ingredients:
6
large sprigs fresh rosemary
1
large egg white
1/2
cup superfine sugar
1
cup (2 sticks) unsalted butter

, cut into small pieces
11
ounces semisweet or bittersweet chocolate

, finely chopped
5
large eggs

, separated
3
tablespoons granulated sugar
1/4
cup all-purpose flour
1
teaspoon baking powder
Chocolate Rosemary Ganache
Hazelnut Praline (Opetional)



Instructions:



Separate rosemary into small bunches. Beat egg white with a drop or two of water until it is very loose. Place superfine sugar in a small, shallow bowl. Lightly brush one sprig of rosemary with the egg white. Sprinkle superfine sugar over the damp bunch of rosemary; shake to remove excess. Transfer rosemary to a cooling rack to dry, at least 1 hour. Repeat until all rosemary is used; set aside sugared rosemary. (It will keep at room temperature for about 24 hours.)

Preheat the oven to 275° with two racks centered. In the top of double boiler, or in a heat-proof bowl set over simmering water, melt butter and chocolate together, stirring frequently, about 5 minutes. Set mixture aside to cool.

In a medium bowl, lightly beat egg yolks, and stir them into the cooled chocolate mixture. Add granulated sugar, flour, and baking powder to the chocolate mixture, and stir to combine.

In the bowl of an electric mixer fitted with the whisk attachment, whisk the egg whites just until soft peaks form. Stir one-third of the egg whites into the chocolate mixture to lighten it. Fold the chocolate mixture into the remaining egg whites, just until combined. Spoon the batter into twelve 3 3/4-inch heart molds with removable bottoms. Transfer molds to a rimmed baking sheet. Bake until centers spring back when touched, about 45 minutes. Transfer molds to a wire rack, and let sit 5 minutes. Unmold cakes. (After they have cooled, if not using right away, cover cakes lightly with plastic wrap.)

To serve, place a cake on serving plate. Pour warm ganache over it; sprinkle with praline, if using. Top with a second and then a third cake layer, drizzling each with ganache. Repeat to make 3 more servings. Sprinkle cakes with praline if desired, and garnish with sugared rosemary. Serve.