Last time I used to go to this coffeeshop for breakfast every Sunday with my family. They serve Foochow food, Pork Leg Rice and Bak Kut Teh. Now, we rarely go there anymore because the Pork Leg Rice/Bak Kut Teh tauke moved to a new place. His Pork Leg Rice and Bak Kut Teh is very nice. My dad loves his pork leg very much, I like his Bak Kut Teh very very much. This tauke moved to his own shop. The kopitiam is next to the MAS building, the same block as Junction Corner.
Soon, Mr. Pork Leg Rice ex-shop evolve from some chinese name coffeeshop to Grandma Klang. Not far from here, there are new shoplots near the appartment. There is a shop called Madam Tang. For those of you who have been to KL or is living in KL, you would know of a popular dining area called Madam Kwan. Madam Kwan? Madam Tang? Madam Grandma Kwan-Tang?
Hmm
.. Just coincidence or double coincidence. Not like I'm saying they're copying names and all.. but they should try something more likely not coincidence to some people like me. Probably, Ah Ma Kwan or Tang Ah So or something. Just Kidding..
Grandma Klang specialized in Bak Kut Teh as shown: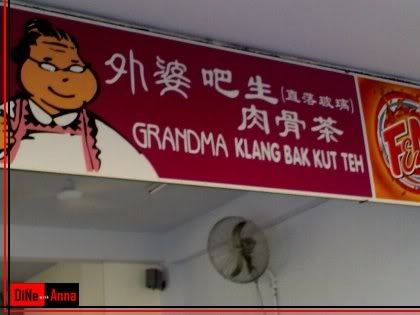 I

specially love their 'Chow Chai Hung Ngan' (in foochow) [Fried preserved vege with big bee hoon]. Simply the best~
Satisfaction:
Yes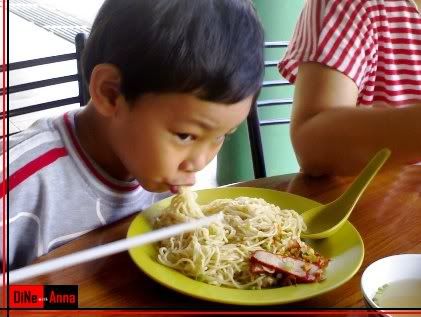 Look at that little boy. You can know how nice the Kam Pua Mee by the look on his face.
Satisfaction:
Yes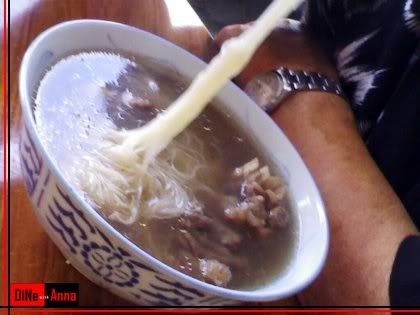 Mee Sua [so called long life noodles. Usually we eat it during someone's birthday].
Satisfaction:
No Idea
For some Foochow cuisine, I would like to introduce another place that serve great foochow food. It's somewhere in Ang Cheng Ho area called
Happy Cafe
(I think..) The Chow Chai Hung Ngan (soup) is the best! Very the
ho liak
(delicious).