So lazy want to wake up this morning. I forced myself up. I've planned to bake cookies eversince last last month. Today's the day to do it. If not, I'll never gonna do it.
After my shower, I went to the kitchen. Took out all the ingredients needed for the cookie recipe.
The recipe:
Chocolate Cherry Cookies
1 ½ cups all purpose flour
½ cup unsweetened Hershey's cocoa powder
½ cup butter
1 cup sugar
¼ tsp. baking soda
¼ tsp. baking powder
¼ tsp. salt
1 egg
1 ½ tsp. vanilla
48 maraschino cherries
glaze (recipe below)
Combine flour and cocoa powder; set aside. In a mixing bowl, beat butter with an electric mixer until softened. Add sugar, baking soda, baking powder, and salt. Beat until combined. Beat in the egg and vanilla. Gradually beat in the flour mixture.
Shape dough into one-inch balls. This can be done easily by dipping up small amounts of dough with a cookie scoop; then roll into balls with your hands. Place on an ungreased cookie sheet. Press down the center of each ball with thumb. Drain maraschino cherries, reserving juice. Place a cherry in the center of each cookie. (If cherries are large, you may wish to cut them in half, placing cut side down.)
Bake in a 350 degree oven about 10 minutes or until edges are set. Cool on cookie sheet for 1 minute. Transfer to a wire rack and cool completely. Spoon about 1 tsp. glaze over each cherry, spreading to cover the cherry.
(An alternate method I tried was to spoon on glaze and then add a cherry on top of each cookie before icing sets up, instead of placing them on the cookies before baking. This makes them more colorful for Christmas.)
Glaze:
1 (1-oz.) square unsweetened chocolate (or 3 tbsp. unsweetened cocoa powder)
2 tbsp. butter (if using cocoa powder, increase amount of butter to 3 tbsp.)
3 tbsp. milk
1 ½ cups powdered sugar
1 or 2 tbsp. reserved cherry juice
Stir chocolate (or cocoa), butter, and milk in saucepan over low heat until all is melted. Take off heat and stir in powdered sugar until smooth. Add enough cherry juice to make it of the desired spreading consistency.
---------------------------------------------------------------------------------------------------------------------------

I've got all the ingredients except the cherries. So, I'll just make chocolate cherry cookie with no cherry. XD!! ok also le..

I mixed all the ingredient into a dough and get the place ready to shape the dough into small little balls. I asked my brother to help me. Hiak hiaks..

He do the rolling, I do the forking.

It took us about 1 hour or so to complete baking. And the result can be seen below...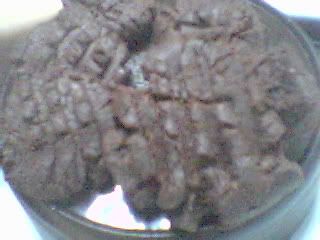 Cookies... John said it looked like Cookie Monster's cookies. XD

Fresh from the oven.. *slurps slurps* *crisp crisp* *BITES*