Iris came at about 7.30pm. We were going for dinner at Thymes. She's going to treat me dinner as to celebrate my coming birthday. wee~~ so Happy.. We had mushroom soup, fish fillet and pizza.
After dinner, we went to Sarawak Plaza then Giant. When we got what we wanted, we went off driving around Kuching.
Bored and complaining how quiet Kuching is, we decided to look for Nancy. Want to go
yam cha
with her and David. Unfortunately, they have planned to go to the movies. So end up, both of us nothing to do, driving around.
Then we planned to go and see Kuching's Airport. Hiak hiak.. Drove past the airport, Iris drove to the back of the airport. We sat behind the airport and wait for aeroplanes to land or to take off. This may be boring for you, but it's exciting and fun to watch the aeroplane to take of and to land.
When we were about to leave the area, Iris went to the back of the car and took out a box. A Taka box. She bought me a birthday cake. Bestnye..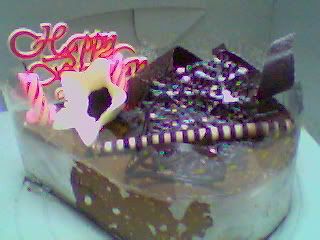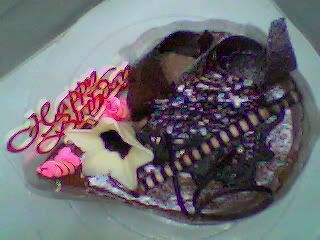 We then went to C11 to have a drink. Sitting outside with the cake and drinks, Iris took a few pictures of me and the cake. hiak hiak..
At about 11.30pm, she send me home. She needs to go home soon to report to her darling.
p/s: will upload the pictures once I got it from Iris.