Couldn't sleep the night before. Probably over excited about the Tao Zhe Showcase. Hiak HIaks..
Was very lazy this morning... Very restless... Woke up at bout 8am. I got morning class. I wish I could escape it and just stay in bed. zZzzzZZz... =.=

Reached college at bout 8.45am. Met Chee Siong, Adelaide, Adeline and Alicia.
Laide: Banana.. Kun beh kao arr? (Not enough sleep?) HAhahaha..
As usual, Laide could tell if I got enough or not enough sleep. How very concern of her. HIak Hiaks... We all went to the cafe. Ordered breakfast. I din't have appetite. All I wanted is SLEEP!! How I wished I was still in bed... snoozing~~

After breakfast, we all went to class. So darn sleepy. In Amanda's class, I couldn't pay attention. I was too tired. Ah well..

During break, we (Adelaide, Adeline, Nancy and Anna) went to the cafe. On the way to the cafe, Nancy and I hand in our LEO form. Well everyone, I'm gonna join LEO for the first time. XD Met up with Chee Sion and Jason. In the cafe, I met Iris, Irene and Anne. Fuh.. This Anne, I thought which part of the planet had she disappeared.

Jason wanted to trick Adelaide. Hahaha.. Talk bout pranks.. Nancy, Jason and I went up to my class. We 'borrowed' a black marker. hiak hiak.. We are 'crimers'. Then, Nancy, Chee Siong and Jason went to Jason's car to get the Bid Red Hand with the word,Hotlink on it. Someone is going to sign on it, and Jason gonna give it to Adelaide saying that, Tao Zhe signed on it. Hahaha..

I was to bring Laide to the cafe and wait for them. hiak hiak.. Then, they came. Jason gave Laide the hand. Hahahaha.. As if she would believe it's sign by Tao Zhe. XD
Well, she din't buy it. So in the end, Nancy confessed she signed it. Hahaha.. Jason brought along a few more 'hands'. Nancy, Jason, Chee Siong, Iris and Anna signed on it. As usual Anna would kek cute and took a picture out of it.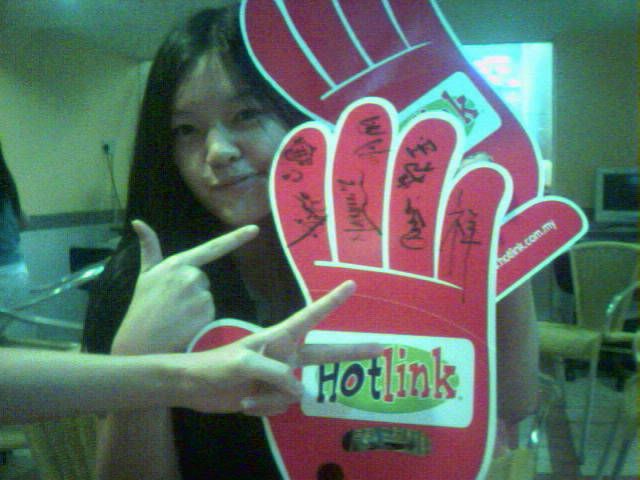 ** From left to right: (Iris, Nancy, Anna, Chee Siong)'s Signature. Jason's Signature was blocked by Iris' peace hand. Haha.. Posing there.. kek kin cute there is none other than Anna ^^**