Ken and Nancy suppose to pick me at bout 5pm, but they came earlier than I expected.

In the car, I asked Nancy where are we going for dinner. She replied me by saying, "I thought you will think of the place." Chammzzz... me again.. ask me where to eat.. memang palak pening punya kerja. Fuh...

In the end we ate our early dinner at some Kopitiam around Pending area. There were a few Kopitiams. I had kolok kueh tiaw. SO SO SALTY!! I din't finish it. Nancy had Mee Sua kosong. She din't finish it, so Ken finished it for her. *ahemm* ahahaha...

We reached MBKS Indoor Stadium at bout 5.50pm. There were many people there already, we thought we were there too early, mana tau... Already got people queueing up there. There were more people coming. I met Wendy Ho, Sylvia and Tua Leong while queueing up. They arrived earlier than us. Much earlier than us.

While waiting, Ken kept disturbing me. Pointing somewhere and saying Tao Zhe's there.
Ken: Tao Zhe arr *points somewhere*
Anna: Where where?? *Turns head looking*
Meriam me the whole night. *sigh*

At bout 6+, I sms Jason asking what time he's gonna reach the stadium and telling him that there were many people here. To my surprise, he replied, "so many people there liaw ka? Ok.. I'm on my way." Lolz..

A few times, Nancy and I would comment how cute some gals are. Not many leng chai to cuci mata lei.. *sigh*

I'm suppose to wait for my cousin, Ing Quan. He wanted a ticket, and I got an extra ticket. So, I gave it to him. I called him, he was still at his friend's place. Jason then arrived with his cousin, Jocelyn. We queued up for about almost 2 hours then the door is opened. By then we were allowed to go in. We chiong for the front. XD sempat jugak. Jocelyn din't want to stand, so she went to the top, got seats there. Meanwhile, four of us (Anna, Jason, Ken and Nancy), stood in front. Best!! While waiting, Ing Quan called, he finally arrived. I went out and passed him the ticket. My my.. is he late or what. He din't get to stand in front, he was standing at the top side with his friends. Poor guy.. When I went back into the stadium, I have to squeeze through the crowd to go back to my SPOT. Ngahaha..

While waiting.. Ken just couldn't help himself. He just have to tease me.
Ken: *points the stage* Tao Zhe!
Anna: *looked* Cheh!!
Ken: HAhaha..
*Laughing along.. Nancy and Jason.* Ken did that a few times.

We waited till 8+pm and still no sign of Tao Zhe. haihzz.. There were so many people.. so so so many people. I think the stadium can 'pong' edi. It's so so so hot. Just imagine being in the sauna.

Then this lady, claims herself as a DJ for 988. I can't recall her name. Well, I'm there for Tao Zhe not her. XD *meanie* Then.. she selected 5 guys. They have to sing Tao Zhe's song. Yea.. yea.. crap... So long.. Haihzz...

After the 5 guys' performance, Tao Zhe came!!! FINALLY!!! When I saw him on the stage.. It's the best thing that ever happened to anyone. Screams.. Everyone was screaming his name.. Tao Zhe!!! YAwwW~~~ I was standing there.. Jumping up and down lil monkey shouting his name. (I wonder if he could hear me). Hiak HIak.. My friends said I high. hahaha..

Tao Zhe sang two songs, 爱我還是他 (ai wo hai shi ta) and Susan 说(Susan shuo). After that, he took a break. After that two songs, was the autograph session. Everyone went to queue again!! Nancy din't wanna join the queue, so she and Ken went to the other side. Meanwhile, Jason and I went to join the queue. People pushing people. Can you imagine that? OMG!! People just love to push. So I just can't shut up, I told them not to push.. but.. people just love to push. When I reached the front of the queue, some fella pushed me and that made the 'Bodyguard' tell me not to go first. I looked at him and said (in chinese), "Not that I can't wait, It's them at the back who pushed me. What am I to do?" Then he looked to the back and said, " Those at the back, No PUSHING please!"Hiak HIaks.. Well.. well..

Tao Zhe signed the CD (Iris' CD) and the lil small I dunno what to call it. Tao Zhe talked to me while signing. *BANGGA!!!*
Tao Zhe: 海.. 你好. (Hi.. how are you..)
Anna: 海.. 很好!!.. XD (Hi.. Very good!!..)
**Tao Zhe hold his hand up to shake hand. WAHHHHAHAHAHHA.. I shooked hands with Tao Zhe!!!**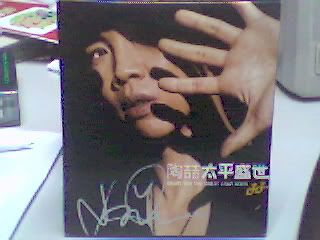 **CD**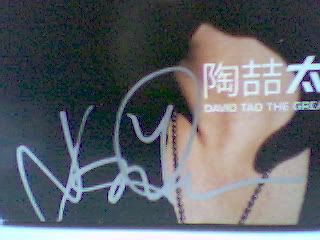 **Close up of the CD. Do u see the Signature??!!**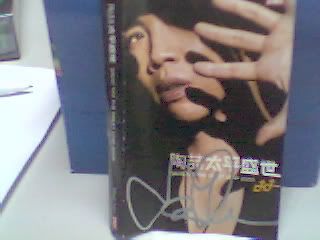 **The lil paper**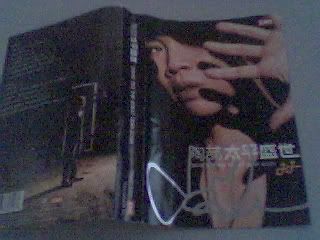 Jason and I then went to look for Nancy and Ken. We were sitting at the top side of the stage.. How to explain.. Blahh.. forget it. Sitting at the top, at the top of Tao Zhe's entry. Then we chatted. We were waiting for the autograph session to end. HIak HIak.. While waiting, Dennis came to join us. Hiak HIaks.. We took some pictures while waiting. kekeke..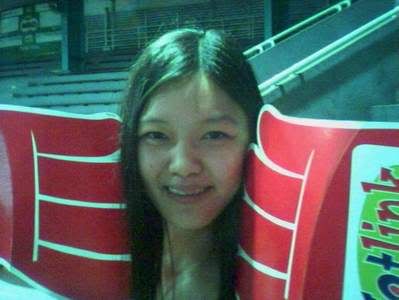 **Anna's suku bin. As I was saying..It's like sauna!**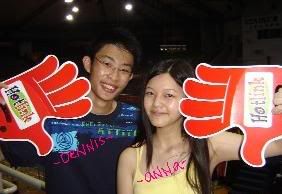 **Dennis and Anna**
Finally the autograph session ended. Tao Zhe walked towards the entry. We called his name, he looked up and waved at us. Hiak HIaks.. but Ken din't manage to take any pictures of him. Too fast. ahhahaha..

Jason and Jocelyn then left. So, left three of us. we walked down. Before leaving we took one last picture with the stage behind us.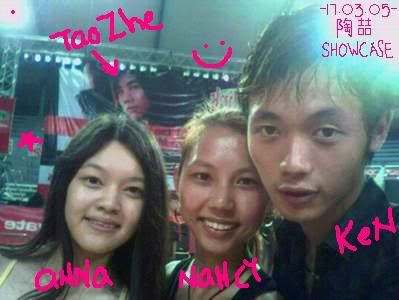 **Anna, Nancy and Ken in front of the stage**