dkxAt abou

t 8.15pm, my dad's friend arrived. We walked to Kenyalang. It was a
±
3 minutes walk. When we arrived, there were lotsa people crowding in front of the stage. Looked like those concerts going on. It was kinda happening at first. To my HEAD-SMACK surprise, there's also some TRADITIONAL DANCING too. wah peh!! You know those kling-klang song with those China China costume with long sleeves. REALLY HAPPENING LE..
We walked around Kenyalang area. In and out every shops. Not one to be missed.
In all of the shops, all those decorations for CNY are being displayed. I can't keep my eyes away from the pair of lions dancing there.
The 100% Discount Store is the champion for the night. Among all the shops, that shop has the highest amount of PEEPS in it.
Just look at all these peeps. Where did they all come from? MarS? *wild guess*


I dare not walk at the 'road' and damnly not going in. Somehow, my mum had her way to make me go in. *shrugs* Once I'm in there, I saw so so so many CHINA goods cheap like no peanuts around. I saw the cross sticth thingy, exactly the same ones I saw in another shop I went in before this. That other shop sold it at RM5.90 and here, it's sold at RM1.80!! How the hell this people make business?? JIAT LATT ARRRRR!!I also want to learn that kinda kung fu.


Kekekeke.. In this kind of thing going on, who dares say that food is not important??
Kenyalang most famous FRIED CHICKEN stall. yummy~~ Once you step your feet into the food market (i called it food market), you will not, CANNOT miss the big
YELLOW
sign that spells SAN TU WANG bla bla bla..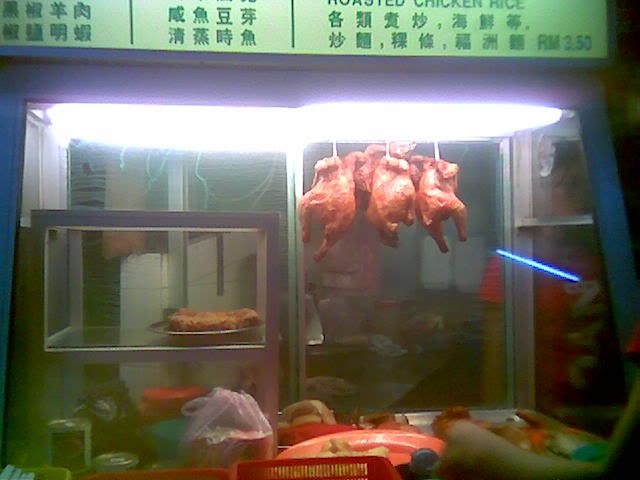 Look at those hanging chickens.. big and juicy.. *slurps*
I ordered a chicken.. pok pok keh.. It cost RM14.00, comes along with 2 packets of chillie sauce, 2 lime, 1 packet of powder (those powder that looked like the som boi hun [sour plum powder]) and most importantly the plastic bag.*BIG GRIN*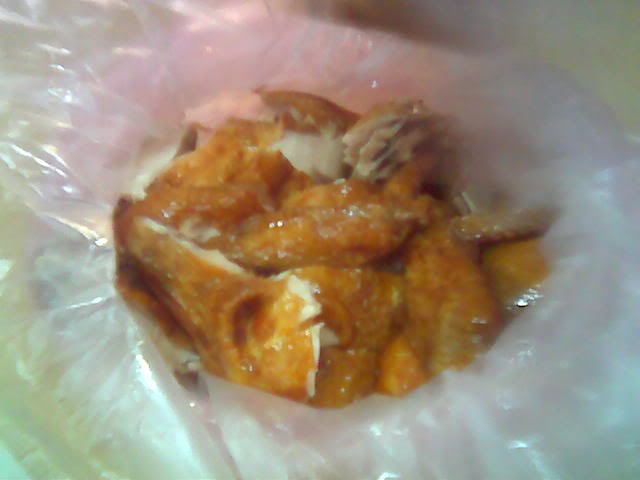 The chopped chicken. Now it looked so little. *sigh*
After feeding the most important part of the body, we went to torture our ears and eyes. Too many people up in front of the stage, so we just stood somewhere in the middle. There's a white screen with projected images on it. Can't take the pic of the stage. Too far away.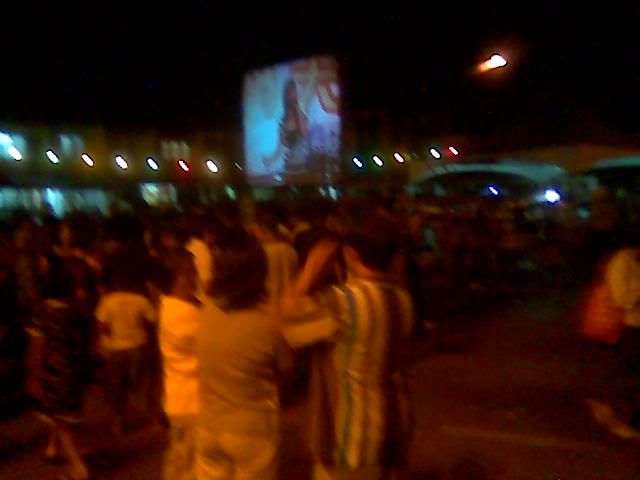 See see see.. Hear hear hear.. *GRAHHHH*


There are some good singers and dancers. When there's good, there's also bad. There's this one guy, he sang some chinese song. His voice kana wanna come out don't wanna come out like that. At first we thought something wrong with his mic. Then, while singing, some fella went to change his mic. IT'S STILL THE SAME LA! **I think if I sing Negaraku, people will cheer for me rather than him** Balik rumah tengok tv lagi best! *I'm mean and I know that*
The people wearing the yellow shirt gave out the lucky draw coupons to everyone. ngek ngek ngek.. Lucky draw~~
My brother went home earlier. Buh bye John.. I've got nomore entertainment, so I just take some pictures of myself. Dengan sialnye, because of the 'romantic' lighting, I look like a floating ghost. Instead, I took my own shadow. *wow.. slimnye.. XD!!!*
It was close to 11pm, they got tired and ah Heng went to get some boxes. ngehehehe.. Kononnye la he found sponsor.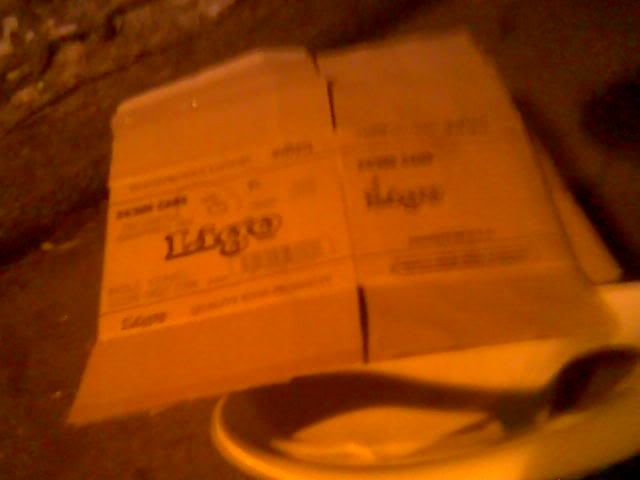 sponsored by Ligo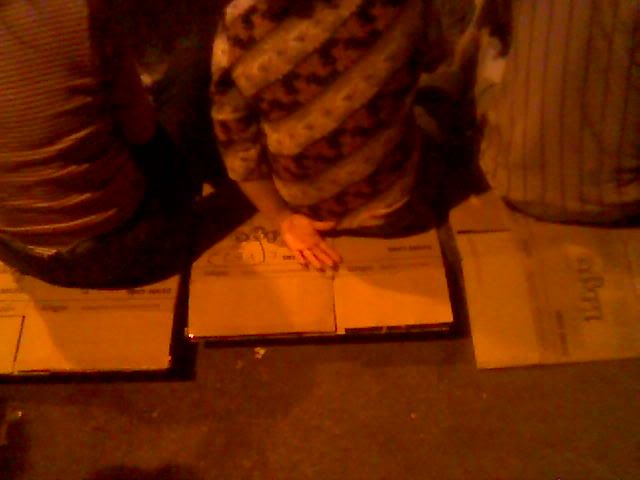 from left to right: Mum, Mrs ahHeng and ahHeng (my dad lucky got chair, God knows who abandoned that chair)
Probably from the singing, the weather from cool and liang liang turned to cool and chilly. That means that it's going to rain. From clear sky with visible bright stars shining, the sky had white cotton candies covering the stars from view. It's time to go home. It's going to rain soon. So we walked back. *Buh BYe lucky draw~*
Reached home at about 11.15pm. The adults do their talking while I go online. New Year Eve without liquor?? You've got to be kidding me..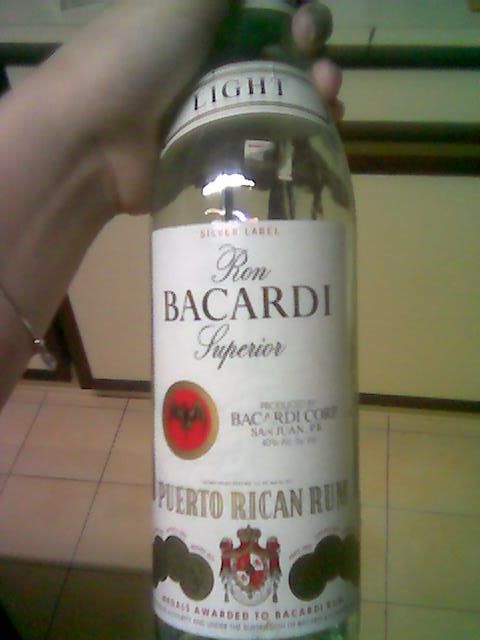 ~Bacardi~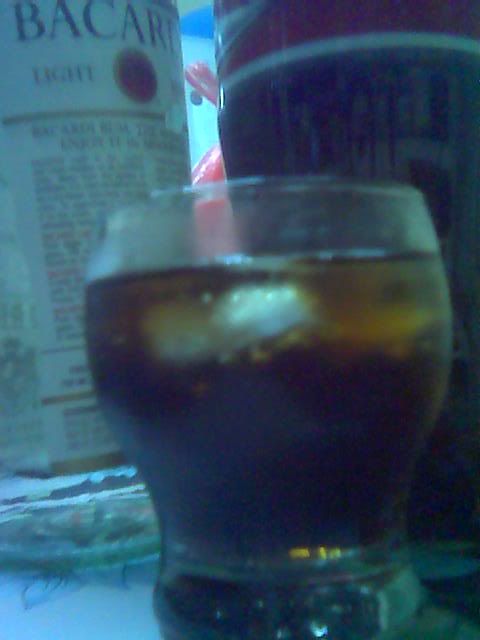 Bacardi and Coke (too bad no lemon.. not so syiokzzz)

Found Dennis online there. At least there's someone to accompany me. We both online for about 2years! ngahaha.. from 2005-2006. Took some pictures of myself. As usual le..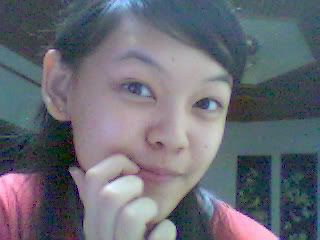 When the clock strikes 12, I can hear fireworks outside the house. What is a New Year without fireworks. I brought my phone out with me and took some pictures of the fireworks. I even took a video of it.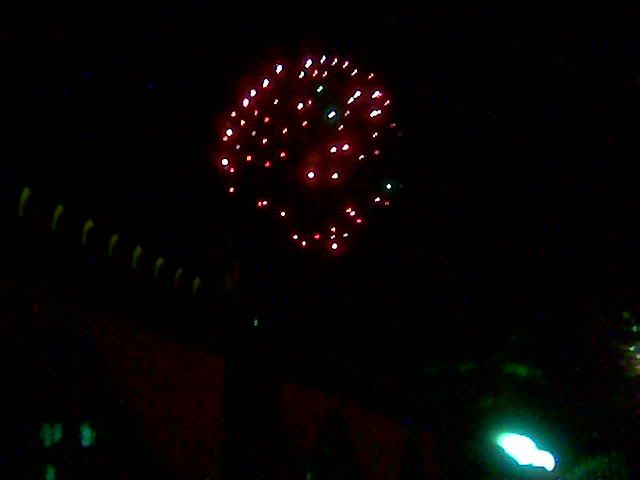 wahhh.. my fav colour is in the sky..
Well, that's my New Year Eve to New Year...
HAPPY NEW YEAR TO U ALL.. MAY U HAVE THE MOST PROSPEROUS YEAR AND MAY UR WISH COME TRUE~~